Product Description

Polyimide (PI) is a polymer of imide monomers, also known as heat-resistant or high-temperature films. With their high heat resistance, polyimide enjoys diverse applications in roles demanding rugged organic materials. Polyimide film is ideal for insulating circuit boards, high-temperature powder coating, and transformers manufacturing.
Polyimide film provides excellent electrical, thermal, physical, and chemical properties over a wide temperature range between -269ºC (-452ºF) and 400ºC (752ºF) making them superior for electrical insulation applications. Polyimide film can be laminated, metalized, punched, formed, or adhesive coated. It is the recommended choice for applications that require an all-polyimide film with an excellent balance of properties over a wide range of temperatures.
we can provide both standard and custom polyimide film solutions for a customer depending on their needs.
Product & packing picture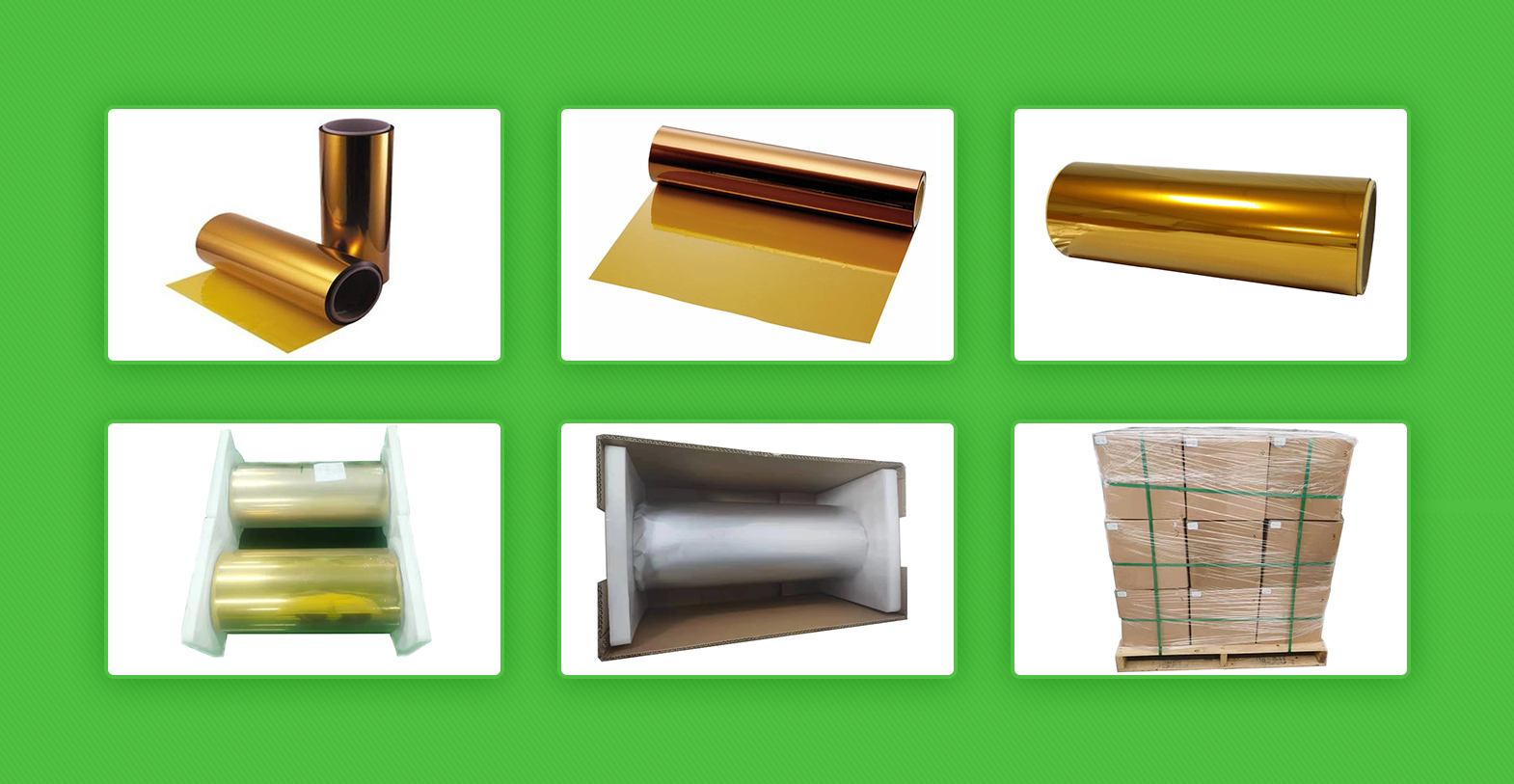 Slitting and Packging
Width:520mm~1040mm
Core ID:76mm(3'')or 152mm(6''),Core materials:Paper or plastic
Packaging:PE film packaged,with aluminum foil and foam,Suspended packing.
Storage: The film should be stored in a dry and clean indoor, should be suspended in the box. Should not erect, close to the fire, heat, or direct sunlight.

Applications


Wire&cable Insulation, slot liner insulation,interlayer insulation in Motor,transformer etc.
Backing material for Polyimide coating or composites
Flexible Printed Circuits Board(F-PCB)
Polyimide Label
Polyimide tubing
Factory Style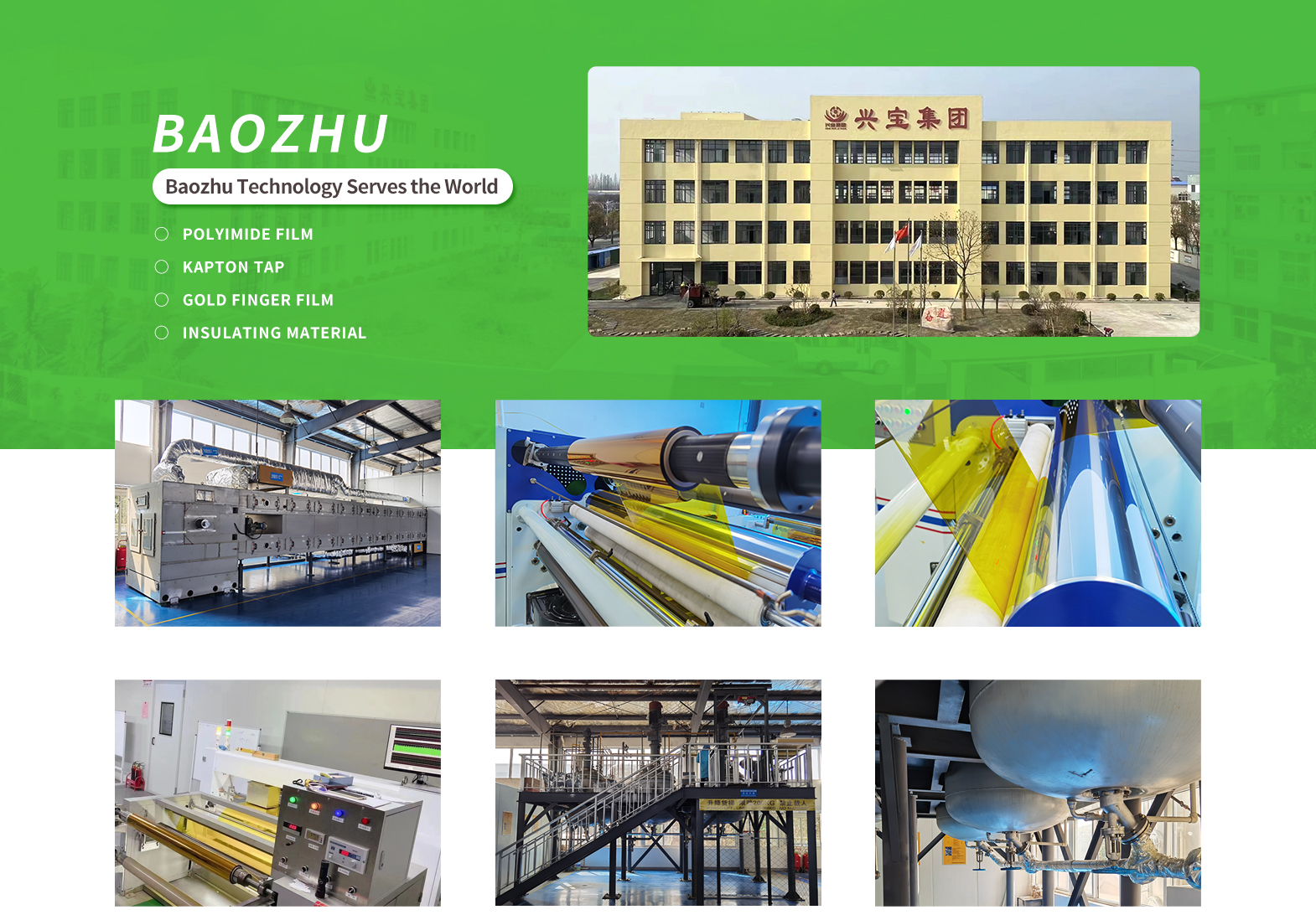 CERTIFICATIONS
FAQ

Q1:Are you a trading company or manufacturer?
We are a manufacturer, We have our own workshop producing electrical insulation polyimide film.
Q2: Can you send samples for testing?
A4 size Samples & Small rolls are free supplied, customers just need to pay a litter shipping charge.
Q3: How can you guarantee the quality of mass goods is the same as the sample sent to me before?
We kept another same sample and marked it on the company when we sent it to the customer. So our products will be based on and also we will test the product before shipment.
Q4: Which package do you use?
The package is an important part to avoid goods breaking in transportation. We will choose suitable packing depending on the materials.


Package & Storage

Packed in rolls and carton; store at room temperature; avoid fire. The storage period is 12 months.
If you are interested please do not hesitate to contact us.

The film preparation method is as follows: polyamic acid solution is cast into a film, stretched, and then imidized at high temperature. The film is yellow and transparent, with a relative density of 1.39 to 1.45. It has outstanding high temperature resistance, radiation resistance, chemical corrosion resistance and electrical insulation properties. It can be used for a long time in the air at 250 to 280 °C. The glass transition temperatures were 280°C (Upilex R), 385°C (Kapton) and above 500°C (Upilex S), respectively. The tensile strength at 20°C is 200MPa, and it is greater than 100MPa at 200°C. It is especially suitable for use as flexible printed circuit board substrate and various high temperature resistant electrical and electrical insulation materials.
physical properties
Thermoset polyimides have excellent thermal stability, chemical resistance and mechanical properties, usually orange in color. The flexural strength of graphite or glass fiber reinforced polyimide can reach 345 MPa, and the flexural modulus can reach 20GPa. Thermosetting polyimide has small creep and high tensile strength. The use temperature of polyimide covers a wide range, from minus one hundred degrees to two or three hundred degrees.
chemical properties
Polyimide is chemically stable. Polyimide does not require the addition of flame retardants to prevent combustion. Common polyimides are resistant to chemical solvents such as hydrocarbons, esters, ethers, alcohols and fluorochloroalkanes. They are also resistant to weak acids but are not recommended for use in environments with stronger bases and inorganic acids. Certain polyimides such as CP1 and CORIN XLS are soluble in solvents, a property that helps develop their applications in spray coating and low temperature crosslinking.